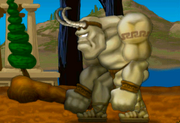 Cyclops warrior is an enemy that appears in Book 1: Chapter 2 in Bookworm Adventures. He is the Fifth enemy in Chapter 2 and has five hearts. He is a cyclops like the
Cyclops Herder
except he has a tattoo on his shoulder, he has cuffs on his wrists, he has a band that wraps around his head that has two goat horns attached to it and he has a club which he attacks with.
Cyclops Warrior
Edit
Hearts: 5
Lore:
| | | |
| --- | --- | --- |
| Attack Name | Attacks | Description |
| Club Clobber | [Att] | Damages Lex |
Description
Edit
""Lonely nights, me turn eye to heavens, Search stars for answers, find none, Eat goats to feel better."
-Cyclops Poetry Competition runner-up"
Ad blocker interference detected!
Wikia is a free-to-use site that makes money from advertising. We have a modified experience for viewers using ad blockers

Wikia is not accessible if you've made further modifications. Remove the custom ad blocker rule(s) and the page will load as expected.