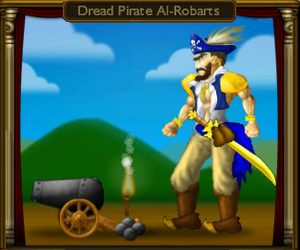 Dread Pirate Al-Robarts is the boss of Book 2, chapter 5. It is the 5th boss of Book 2. It has 30 hearts. It has a cannon and a sword.
| Attacks | Description | Action |
| --- | --- | --- |
| Gem Heist! | Steals Gem | Dread Pirate uses its sword to steal Gem. |
| Sword Flurry | Cuts Lex | Dread Pirate uses its sword to Cut Lex. |
| Potent Grog | Heals, Purifies and Power-Ups Dread Pirate | Dread Pirate drinks an elixir that makes him boost and heal. |
Ad blocker interference detected!
Wikia is a free-to-use site that makes money from advertising. We have a modified experience for viewers using ad blockers

Wikia is not accessible if you've made further modifications. Remove the custom ad blocker rule(s) and the page will load as expected.