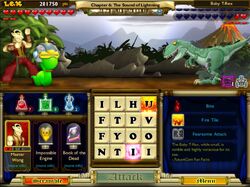 Fire Tiles are negative tiles introduced in Bookworm Adventures Vol. 2. These tiles have the same function as it is on the original Bookworm Deluxe. It destroys tiles below it when not used. When it reaches at the bottom of the grid, it burns down, smashes all normal tiles and Lex burns. Luckily, these tiles can still cause damage but it cannot be purified at all, unless Lex defeats an enemy or boss. Fire tiles are produced by some enemies, like The Butterfly.
Enemies uses Fire Tile Attack:
Edit
Baby T.Rex
FutureCom Hunter
FutureCom Tour Guide
Mama T.Rex
The Butterfly (Boss)
Skeletrox (Dance cmdr)
Book Burner
Bigger Brother (Boss)
The Machine (Phase 3)
Fire Tiles are also the negative tiles introduced in the original Bookworm Deluxe. However, they were reintroduced in Bookworm Adventures Vol. 2 and not the prequel of it.