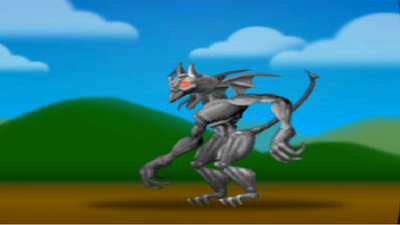 The Gargoyle is the second enemy to appear in Chapter 9, Book 3. It is essentially a larger and more powerful version of the Tombstone Gargoyle that is not standing on a tombstone, with their attacks and appearance similar.
Info
Attacks

Pierce Heart

Evil Gaze

Open Wound

Hearts
24
Enhancements
Heavy Armor, Poison Immunity, Freeze Immunity
Vulnerablities
None
Book
3
Chapter
9
Order
2nd
| Ability | Description | Action |
| --- | --- | --- |
| Pierce Heart | Damages Lex | The Gargoye jumps at Lex and claws him using its fingers. |
| Evil Gaze | Damages and Petrifies Lex, Changes tiles | From its eyes, the Gargoyle shoots red light beams at Lex. |
| Open Wound | Cuts and Damages Lex, Smashes tiles | The Gargoyle jumps at Lex and uses its foot talons to wound Lex. |
| Curse Eternal | Enemy is very resistant to Damage, and is immune to Poison and Freeze | N/A |
Ad blocker interference detected!
Wikia is a free-to-use site that makes money from advertising. We have a modified experience for viewers using ad blockers

Wikia is not accessible if you've made further modifications. Remove the custom ad blocker rule(s) and the page will load as expected.