Write the first paragraph of your page here.
Description
Edit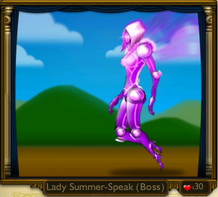 Lady Summer-Speak is the boss of Book 6, chapter 8. It has 30 hearts.
| Lores | Description | Action |
| --- | --- | --- |
| GigaFist of Hurtz | Damages Lex | The lady evolves her "GigaFist" and punches it at Lex. |
| All here belongs to Me | Steals a gem tile and potion | The lady uses a static net to get & steal the gem/potion. |
| Song of the System | Powers-Up and regenerates | The lady sings that regenerates and powers her up. |
| Reality Shift | Shields, Fires tile and Cursed tile | The lady shoots a beam of virus into the tiles. |
Ad blocker interference detected!
Wikia is a free-to-use site that makes money from advertising. We have a modified experience for viewers using ad blockers

Wikia is not accessible if you've made further modifications. Remove the custom ad blocker rule(s) and the page will load as expected.