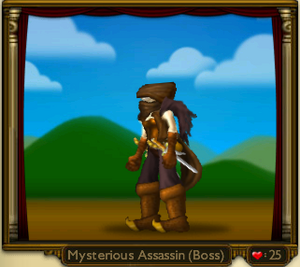 The Mysterious Assassin is the 1st boss in Book 2. She has 25 hearts and an army of malevolent daggers at her disposal.
| Attacks | Description | Action |
| --- | --- | --- |
| Dagger Flurry  | Poisons Lex | The Assassin shoots many daggers at Lex. |
| Sword Flip | Cuts Lex | The Assassin jumps at Lex and cuts him. |
Quotation:
Edit
"She was a daggered shadow feared by all"
Ad blocker interference detected!
Wikia is a free-to-use site that makes money from advertising. We have a modified experience for viewers using ad blockers

Wikia is not accessible if you've made further modifications. Remove the custom ad blocker rule(s) and the page will load as expected.