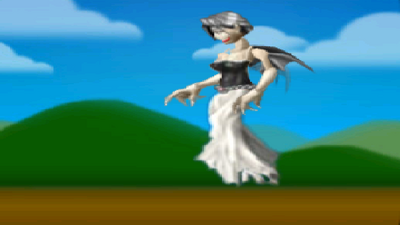 Vampire Mistress is the 3rd enemy to appear on Chapter 9, Book 3. She constantly hovers over the ground by flapping her small wings.
Info
Attacks

Claw

Deadly Kiss

Vampire Bite

Hearts
25
Enhancements

Heavy Armor, Poison Immunity, Freeze Immunity

Vulnerabilities
None
Book
3
Chapter
9
Order
3rd
Lores
| Ability | Description | Action |
| --- | --- | --- |
| Claw | Damages Lex | The Vampire flies to Lex and claws him. |
| Deadly Kiss | Stuns, Bleeds, and Damages Lex | The Vampire flies to Lex and kisses him. |
| Vampire Bite | Weakens and Damages Lex, Heals and Purifies enemy | The Vampire flies to Lex and bites him. |
| Curse Eternal | Enemy is very resistant to Damage, and is immune to Poisin and Freeze | N/A |
During her opening animation sequence, and when she performs

the Claw and Vampire Bite attacks, her hands and hair will glow red, while her hair also bends upward.
Ad blocker interference detected!
Wikia is a free-to-use site that makes money from advertising. We have a modified experience for viewers using ad blockers

Wikia is not accessible if you've made further modifications. Remove the custom ad blocker rule(s) and the page will load as expected.